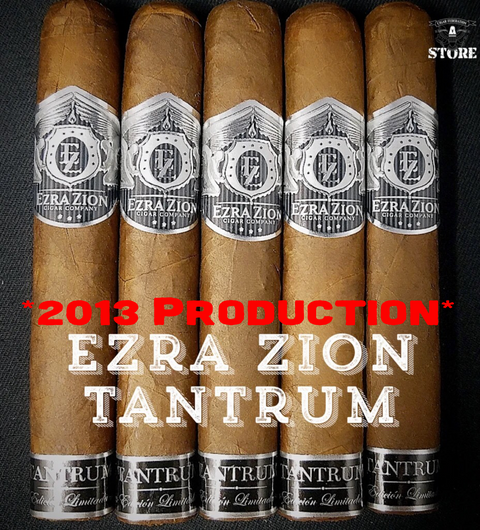 Ezra Zion
Ezra Zion TANTRUM-2013 PRODUCTION
Choose Vitola from Drop Down Menu
Choose Count from Drop Down Menu
Winner of the #1 Cigar of the Year 2013 (Halfwheel Consensus List)!
*This cigar is from the ORIGINAL 2013 PRODUCTION RUN!*
TANTRUM is a little firecracker is loaded with a 17-year-old Medio Tiempo ligero tobacco. That is the secret sauce of this blend!

Ezra Zion blended this and manufactured this cigar at Aganorsa with 100% Aganorsa tobaccos! So you know it doesn't get any better than that!
Flavors explode across the palate with dark caramel, sugar cane and pepper. The retrohale is a magnificent bouquet of jalapeño and cayenne.
As it progresses, vanilla blasts and espresso flavors join the mix. The finish is long and clean with cedar notes tingling the tongue.
Don't let the size fool you, this little award winner will last you as long as a toro sized cigar. It packs a wallop along with a beautiful balance and complexity of flavor.
NOTE: Once the 2013 production run is gone...THE TANTRUM is gone forever!
Get Yours NOW!